Routine Training Workshops

Microscopy workshops are held on demand approximately twice a month for big confocal systems.  If you wish to be trained on a particular instrument, contact dcarter@ucr.edu explaining your need and availability.  Then the workshop will be scheduled, and advertised on the FACES booking site so others can join us.  When a user is formally trained, their access is then switched on in the booking system, so they can reserve that resource.  
Smaller systems have open booking, so anyone with access to the booking site can reserve and use them.  However, it is often easier to learn how to use a system by demonstration, so feel free to set up a time for individual help.  In this case, you will need to book and pay for the instrument time, but the training comes at no extra charge.  Booking cost may be waived if a group is all being trained together.
Zeiss 880 Airyscan Fast training can be scheduled at about a week's notice and now covers both the inverted and upright systems.  A full morning of powerpoint and demonstration in Keen 1002 is followed by users trying their own samples in the afternoon.  Contact dcarter@ucr.edu to reserve a space (limit 6).
Leica SP5 confocal training typically takes a whole morning, starting at 9am in Keen Hall room 1007.  No limit but please also register.
If there is an imaging problem your lab needs help with, Dr. Carter is happy to join a lab meeting to discuss it.  For example, he has provided sessions on FIJI/ImageJ and on FRAP analysis.
Leica STELLARIS 8 DLS On-Site Demo May15-June5 2023!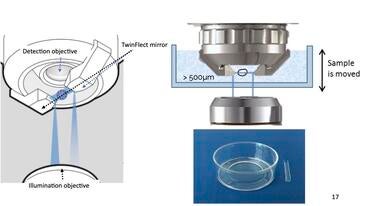 The Microscopy Core Facility is hosting a demonstration of the newest Leica confocal system in Keen Hall 1003.  Please contact David Carter to reserve time to test your samples on this spectacular instrument.  Current users can book up to 2 hours on our usual Faces calendar, then re-book more available time once those hours are used.  Olivier from Leica will speak on the instrument at 1:30 on Friday May 12, and will be available from 10am to 4pm each day to train/assist new users, and Dr. Carter will cover additional time by request. Due to technical difficulties the demo was extended to June 5, and light sheet was not shown.
Features include a pulsed 440-790nm white light laser with FLIM capability, an 8kHz scan mode for video rate data collection, and a light-sheet imaging option for even faster camera-based data collection of transparent samples above 500 microns thick.   The system has Tau Sense for easy lifetime analysis and is expected to be very user friendly.
This is a one-time opportunity to test this instrument in our own facility, and get free data that can be used to write a grant application for acquiring this cutting edge system.   If we use the system productively, we could potentially keep it here for another week, so please have samples ready for the week of May 15, so we can make maximum use of this opportunity.
Stellaris 8 DLS
Technology Demonstrations
The Microscopy Core Facility is an excellent venue for vendor demonstrations.  Several times per year, new instruments are exhibited in Keen Hall 1007, often with ample opportunity to run your own samples and thoroughly evaluate the benefits and limitations of an instrument.
Please make good use of these demonstrations, so we can keep ourselves informed about the instrumentation marketplace, and prioritize future instrument acquisitions.  For example, the Keyence BZ-X710 all-in-one microscope was so well regarded during a 2016 demonstration, that we purchased the instrument in January 2017.  Two successful demonstrations of the  Hitachi TM4000 environmental SEM in 2018 and 2020 led to its prompt purchase and install in April 2020.  
We hosted a ThermoFisher Scientific technical cell analysis open lab in 2018 where highlights included the Thermo CX-7 high content imager, EVOS monitor microscope, and  iBRIGHT gel imaging system.  We also exhibited the innovative Echo Revolve flippable microscope.  
Demonstrations of the Leica Stellaris was postponed due to the COVID-19 pandemic, and Nanolive 3D cell explorer was demonstrated remotely.
Zeiss has a new super-resolution technology called Lattice SIM2, which is gentler and faster than regular SIM, and claims resolution down to 60nm.  UC Irvine has installed the eariler Lattice SIM, and Dr. Carter tried it on a UCR user sample without success.  Field of view is very tight, and the algorithm is fussy if the sample isn't perfectly stained.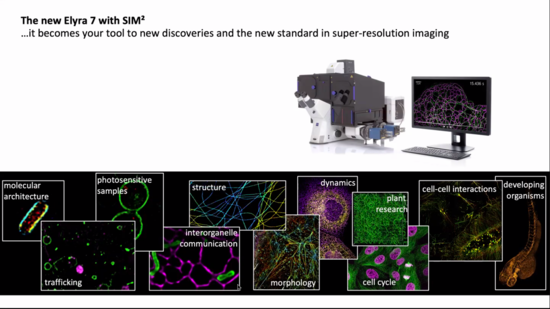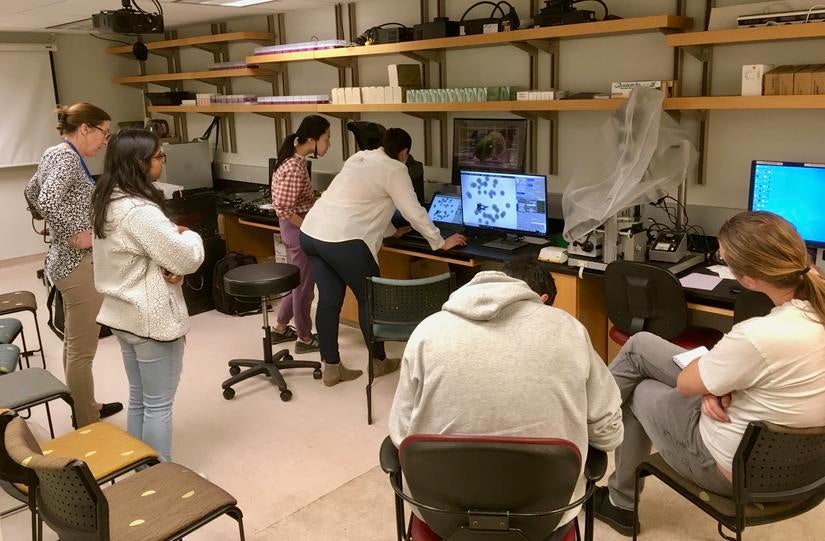 Keyence Tokai-Hit Climate Control Incubator is Installed
A newly redesigned stage insert for the Keyence BZ-X710 all-in-one microscope was demonstrated in December 2020 and is now installed for use.  This allows you to do long time course kinetics experiments at 37 Celsius and 5% Carbon Dioxide in multiwell plates, slide chambers or 35mm dishes.  A chest incubator was also donated and is in Keen 1015.
We also evaluated the built-in confocal capability of this instrument, so you can do 3D time courses.  The advantage of the Keyence for confocal is the camera allows more automation, a bit like we had on the PathwayHT systems.  The disadvantage is the liquid crystal line pattern method is a lot slower than point scanning or spinning disc.  It was not purchased due to funding constraints.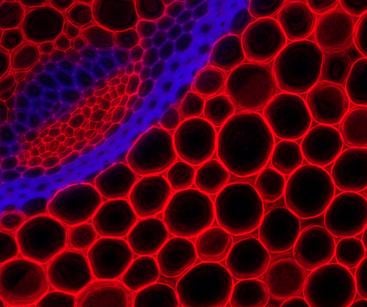 Echo Revolve and Rebel Demonstration
On November 5 2020 we had a socially distanced demonstration of the Revolve upright/inverted fluorescence microscope, and the Rebel upright/inverted bright field microscope.  These microscopes easily switch from Inverted to Upright depending on need.  The Revolve has an excellent fluorescence system with up to 4 LED sources and up to 4 fluorescence cubes plus transmission for phase or bright field.  The compact Rebel is also flippable for bright field and phase only. 
Both are very solidly designed by a local company, and offer easy online ordering (I can help).  By saving the cost and complexity of a trinocular head, and using brilliant Olympus objectives, these instruments offer good value for money and are easier to find space for in a brightly lit lab.  The iPad interface is intuitive and fun, with good color balance and easy navigation.  However, you can't seem to turn auto-expose off, making comparison of brightness between samples difficult.
I was also able to evaluate the rugged Olympus 40x/1.4 lens as a possible alternative the the fragile Zeiss 40/1.4 on our Zeiss880 systems, but it was not compatible due to very different spectral correction and low 355UV transmission.  No surprise but worth a try.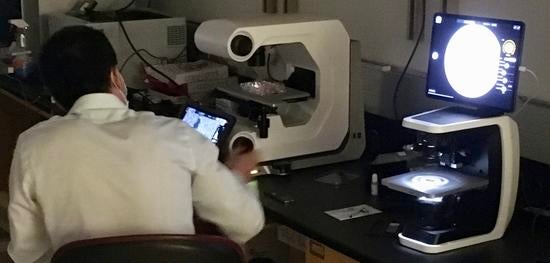 Hitachi TM-4000 Environmental Scanning Electron Microscope
On July 12 2018 we had a hugely successful demonstration of this new version of our old TM-1000.  The new, smaller instrument is many times higher resolution and has over thirty different imaging modes rather than just one, but still lists at less than $90k, and is still incredibly easy to use.  
An optical view finder and motorized stage make navigation much simpler, vastly improving sample throughput and ease of use.  We had a hectic tag-team of users from sixteen labs and were able to collect 80 high quality images in a single afternoon.  In 2020 we purchased the new TM4000EPlusII version, which has SE, BSE, and Mix detector modes at 5-15kV; and Cathode Luminescence at  20kV.  It can even screen TEM grids in STEM mode with a custom holder.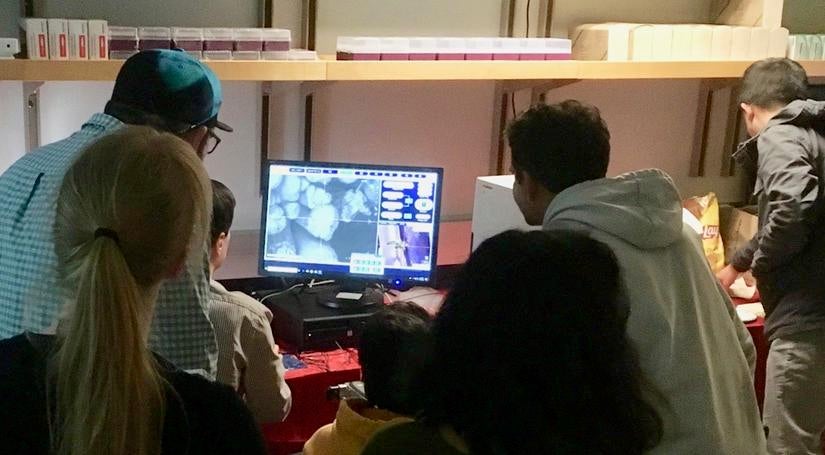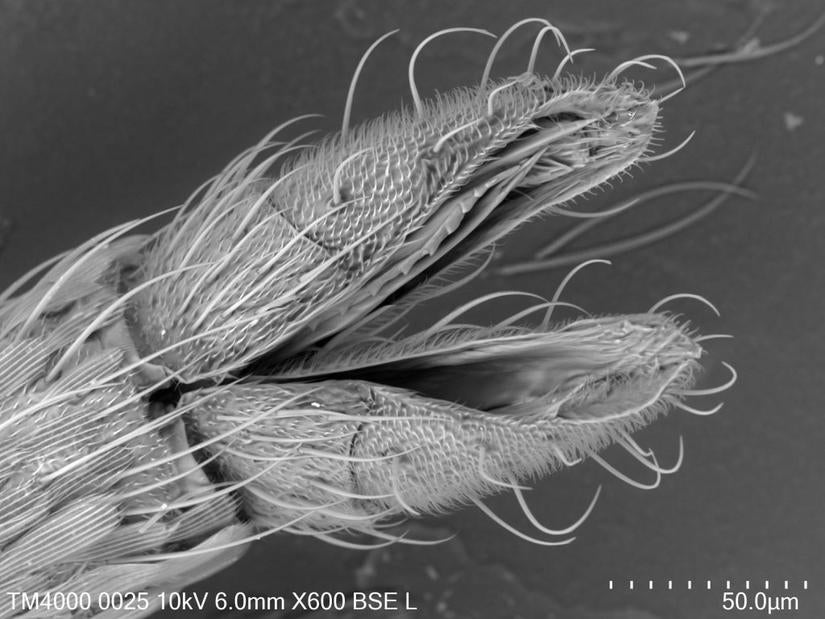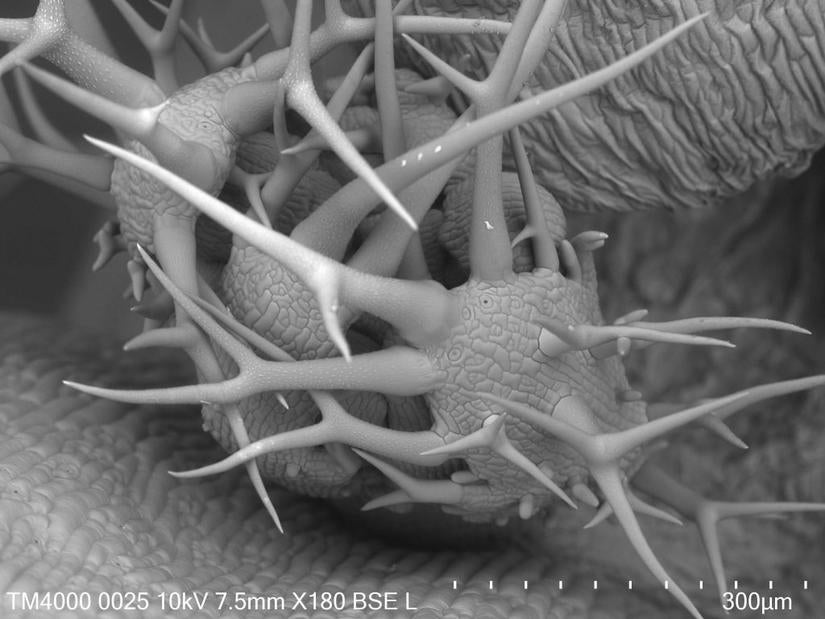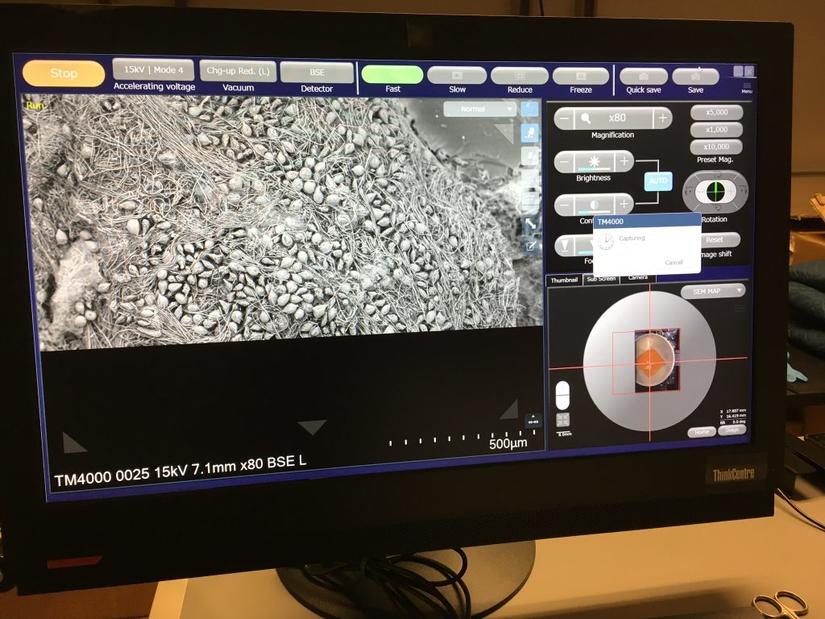 Keyence VHX-6000 profiling microscope
This material science microscope was demonstrated  April 25 2018 in Keen 1007.  This is a very fast full-color wand-type stereo microscope.  Being telecentric, distances remain exact, regardless of focus, so it can collect stunning 3D rendered surfaces of live specimens, and can tile together larger samples up to 100mm.  We found it could not also do fluorescence, but NightSea has a system that fits the later VHX-7000.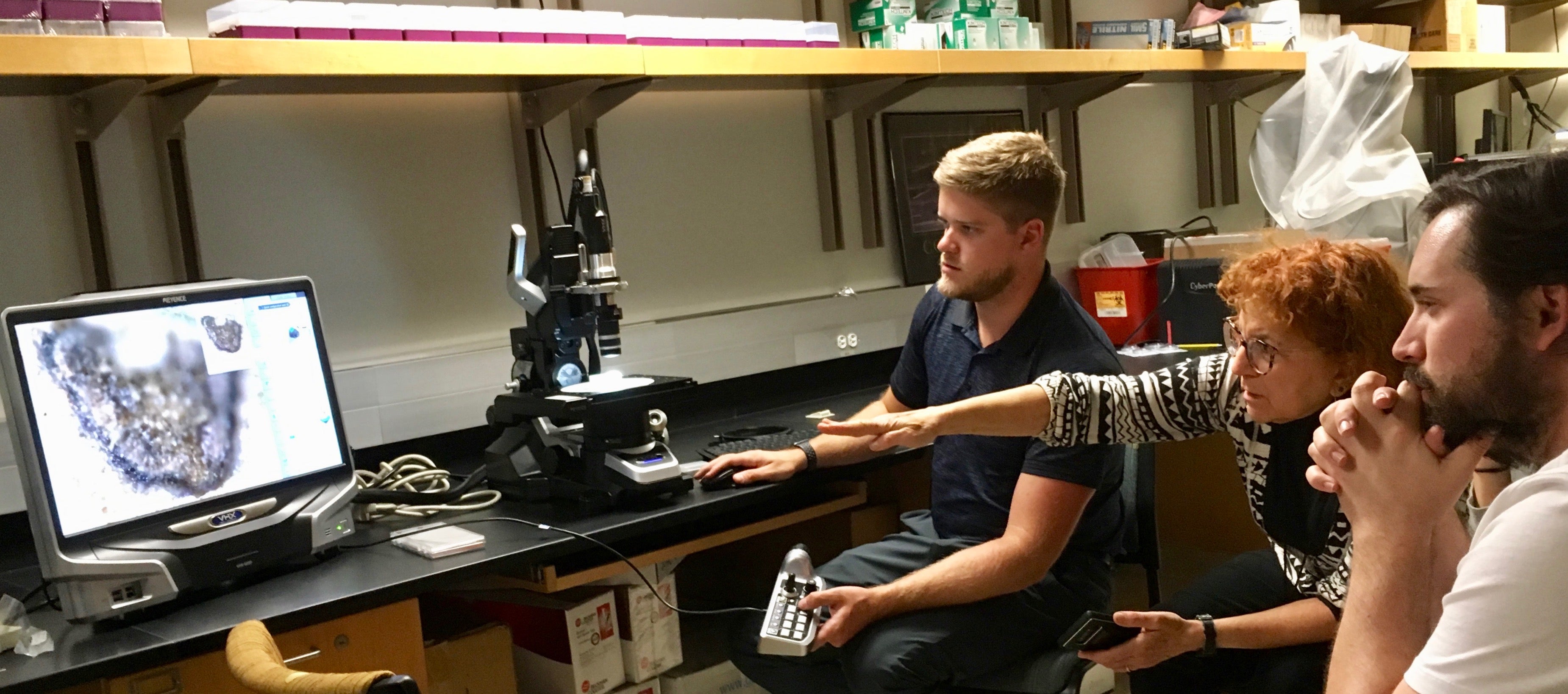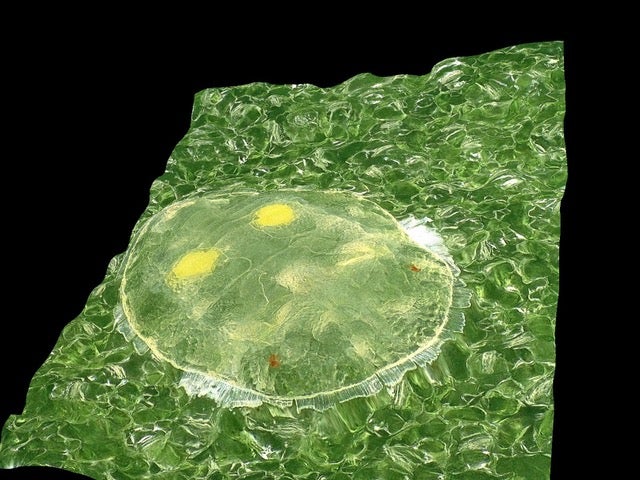 Thermo Invitrogen Open Lab
On March 1 2018, Thermo Scientific brought in a range of instruments, and a group of technical experts to explain their utility.  Instruments included the CX7 LED based plate imager, the Varioskan plate reader, the iBright gel documentation system and the EVOS Auto screen-based inverted microscope.
Leica LMD7 Laser Microdissection System
We checked this out as a possible successor to the discontinued Arcturus XT, which didn't get enough use to justify an update.  The LMD7 uses a powerful pulsed laser to cut even thick tissue, and let it drop into a collection system.  Easy to use with a stylus on the touchscreen, we even etched glass with it.  This might be good for a lab specializing in micro-dissection.  For occasional use though, dissection by hand with tungsten needles, or poking with single-use minuten pins under a stereo scope is still a practical and inexpensive option.
Other Demonstrations
We have demonstrated many instruments over the years, to monitor their utility and decide when they are polished enough to be really useful in a busy core facility.  The Leica SP8 Multiphoton was well received, but now they have added Falcon fluorescence lifetime with Phasor analysis; and have re-branded it Stellaris.  Fiber lasers are getting bright enough and fast enough to offer rugged MP, but are not yet offered by the major brands, which still all use bulky, fragile, and expensive TiSapphire lasers.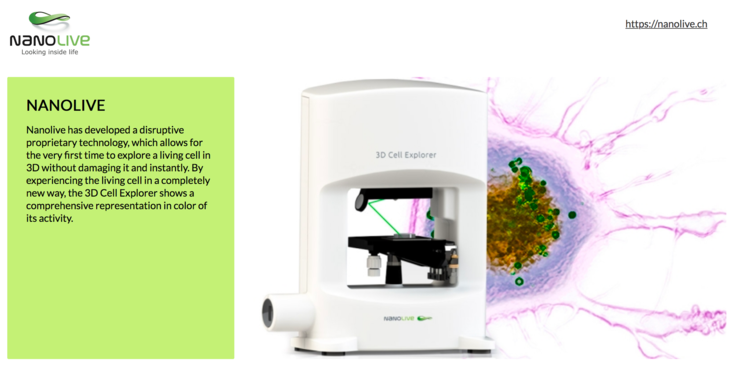 The NanoLive is an exciting holographic microscope for 3D imaging of live unstained cells.  It will be a great system when the software auto-identifies organelles; and when they have a good range of consumables that tolerate the angled beam path.  Phasics showed us their Sid4Bio camera, which also uses phase shift rather than fluorescence to detect cell structure. Neither system has found its Must-Have application yet. 
The Yokogawa X-light spinning disc confocal has done away with eyepieces, and remains one of the gentlest ways of doing extended confocal experiments. Laser launch has been made brighter and more reliable with Borealis, which vibrates a multimode fiber to make non-speckled output through a rugged large-diameter fiber.  We missed a visit by super-resolution variant, which was unsuccessfully shown in a private lab demo. The Blaze Ultra Microscope light sheet system is even more gentle, and collects vast amounts of much lower resolution (~2µm) images.  Its carousel of 3 dipping lenses, and row of positionable samples appears to offer great versatility and potential for unsupervised data collection.  How to manage  a Terabyte of data per experiment without a team of image infomaticians remains an issue.
Vibratomes slice through live tissue with an oscillating razor blade, but the vibration makes the sample jiggle, and prevent the cutting of very thin slices.  Precisionary seem to have solved this with their Compresstome, which extrudes the sample through a pinched cylinder that holds the cut plane snug.  An off-site evaluation found the engineering a bit primitive and messy, so it is more suited to an expert lab than a general core facility.  But it can cut at less than ten microns, compared to hundreds, with good cell viability.  They offer rent-to-own, which is a nice innovation in itself.