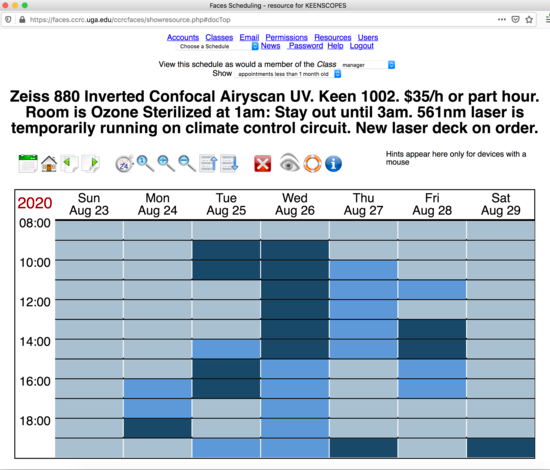 FACES 24/7 Booking System
In September 2019, the Microscopy Core transitioned from our home-grown iigbreservation to the more rugged faces.ccrc.uga booking system.  This calendar reservation system is used by more than 40 labs internationally, and we are its biggest group.
Anyone who had not used the facility since 2018 will not have been transitioned over, so please forward your lab affiliation and FAU number to dcarter@ucr.edu and you will be re-established as a user.
Navigation is by resource.  Pull down the instrument you wish to book; click on the hour you wish to start, the hour you wish to end, then press OK, OK.  The workday can be scrolled up or down, or set to 24 hour with the (24) button.  Use → to see next week.
The Zeiss 880 inverted and Keyence have an option for 37°C incubator work.  Book at least 3 hours, and the first warm-up hour will be refunded. The Bitplane software has an option for remote operation with Anydesk, for tracking purposes only.
Internal Sales and Service Rates 2021/22
The Microscopy and Imaging Core supports more than 275 researchers from 124 labs in 16 departments all across campus.  We do not offer external rates, and can only accept payment by UCR FAU  transfers. 
                                                                                                                                                          
| | |
| --- | --- |
| Services | Per Hour or Run |
| Camera: Multiphot/Nikon D5000  for Macro Imaging | $5 |
| Confocal: Leica Inverted SP5* | $35 |
| Confocal: Zeiss Inverted 880 Airyscan* | $35 |
| Confocal: Zeiss Upright 880 Airyscan*  | $35 |
| Critical Point Dryer EMS850  | $10 |
| Cryostat: Hacker Bright OTF 5000* | $10 |
| Gene Gun, BioRad Biolistic PDS 1000/He | $5 |
| Keyence BZ-X710 Automated Microscope | $10 |
| Luminescence Dark Box/Pixis 1024B Camera | $10 |
| Microtome, Hacker 5030* | $5* |
| Nightsea LED Fluorescent Viewer Scope | $0 |
| Plate Reader, Victor 2 | $5 |
| Robot, Biomek FXp | $0 |
| SEM, Hitachi TM4000PlusE II  | $35 |
| SEM, Hitachi TM-1000 (outreach)  | $25 |
| Sputter Coater Quorum SC7620 | $10 |
| Stereoscope MZ FLIII Fluorescence Scope | $5 |
| TEM Preparation Ultracut T  | $10 |
| Tissue Slicer, EMS 5000  | $5 |
| Surcharge for Improper Use of Equipment or Booking System (Per Event)** | $80 |
| *For microtome sectioning, try the SOM Histology Core which also has a new cryostat |   |
If a single run of an instrument (e.g. critical point dryer) takes longer than an hour, you will only pay for a single unit of rental.  
If a run only takes 10 minutes, (e.g. sputter coater) you will also be charged one unit.  
If you fit several runs into a single booked hour, you will still pay for one unit (e.g $10).
If you book 2 hours on an instrument (e.g. Leica SP5) and then do not use that time, you will pay two units of rental.
*To reduce wasted hours, the Zeiss and Leica confocals have a 24 hour limit on cancellation.  You can clear a booking a full day before, but not at shorter notice.  This gives other users time to see the vacancy and arrange experiments of their own on these busier instruments.  All other reservations can be cleared at any time up until the booked session starts.
If you have more work to do at the end of your booking, you may continue to work into available time slots; so long as the extra time is reported within 24 hours.  
**Abuse of the booking system, or abuse of the instruments themselves, will incur an $80 surcharge per incident.  This includes evading payments; or leaving a system on, dirty, or not under its dust cover.